Yes, we're still getting rid of stuff in our house renovation project, which we started a month ago. This time it was all about demolishing walls and a giant chimney and other various bits and pieces, and then getting the remnants of destruction out of the house. Oh and there was more poo.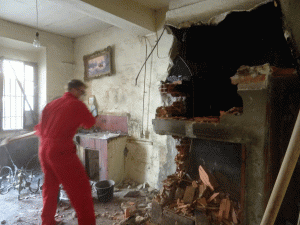 On top of all of the sledgehammer work and shovelling rubble into the trailer about 100 times, we also took it upon ourselves to empty the cellar. A whole other mystery of findings and a lot of soil and beautiful stones! Maybe a bit of an odd choice of words, but yes, stones can be beautiful, especially those old ones that are used to build walls and garden paths, which is where we are donating our stones towards: My parents' garden. Overall, we're going to try to reuse materials as much as we can during the renovation.
After about 5 days of lifting buckets of rubble, shovelling like speedy Gonzales to get more trailers to the tip and holding onto the sledgehammer to not follow through the wall with my entire body, I feel like this has been a successful "active holiday". I can feel ALL my muscles, my hands won't voluntarily hold a mug anymore and I might be able to churn out a few more push-ups than I used to. (Emphasis on might)
I did a little video of the first day of destruction. There are even some bonus shots of the view to the tip at the end, so keep on watching!