If you've been following my blog for the past couple of months, you'll know that I had a benign brain tumour that had to be taken out via surgery. Naturally, there were some risks and open questions involved that had me in a right state of panic.
The panic came in waves, most likely because I hadn't fully accepted what was happening and what would happen. I didn't want to do too much googling as that can also have quite a negative effect on your mental state. I've done research that helped me understand all of the factual things (what does the pituitary gland do, where do the optic nerves sit etc.) but I also needed emotional support to prepare me for what was to come and for how it would be like after.
Here are the things I did to prepare/process/deal with the situation.
Questions
After the initial shock and digesting the news, there were a lot of questions roaming in my head. I was lucky to have a great surgeon who took the time to answer them all via email whilst I was out of the country. I think it is important to let the initial thoughts and fears make their appearance to get to the questions that you really need answers to. I started to collect questions that popped up suddenly over a couple of days and also asked very close family if they had any questions they needed answering. This approach worked well for me to not spiral too much out of control.
Research about surgeon and hospital
With this kind of thing you want to make sure you have the best possible team that you can get. So of course I researched everything I could about my surgeon. I even asked him point-blanked how often he had done this kind of thing and what his success rate is. It is the most reasonable thing to do. After all, it's your brain and someone is going to cut into it and take stuff out and… you get the gist. However, there was a part of me that didn't dare question a specialist.
I also researched the hospital, went into a bit of history and the establishment of the neurology department and it turned out I was quite lucky that my surgeon was working under the number one neurologist until 2015 (according to Google) in one of the best neurology centres in the country. *fistpunch*
Motivational quotes
If you haven't seen The Best Exotic Marigold Hotel, then you should. It is a cosy, feel-good film with a recurring quote that has stuck with me ever since I first watched it because it leaves you with the right dose of optimism.
Everything will be alright in the end. If it's not alright, it's not the end.
I think the original was from John Lennon, but not sure.
This quote was and is quite poignant. I decided to make a wall of quotes that I would want to read waking up every day to help me stay positive in preparation for the big day but also afterwards. A couple of people added some good phrases there as well.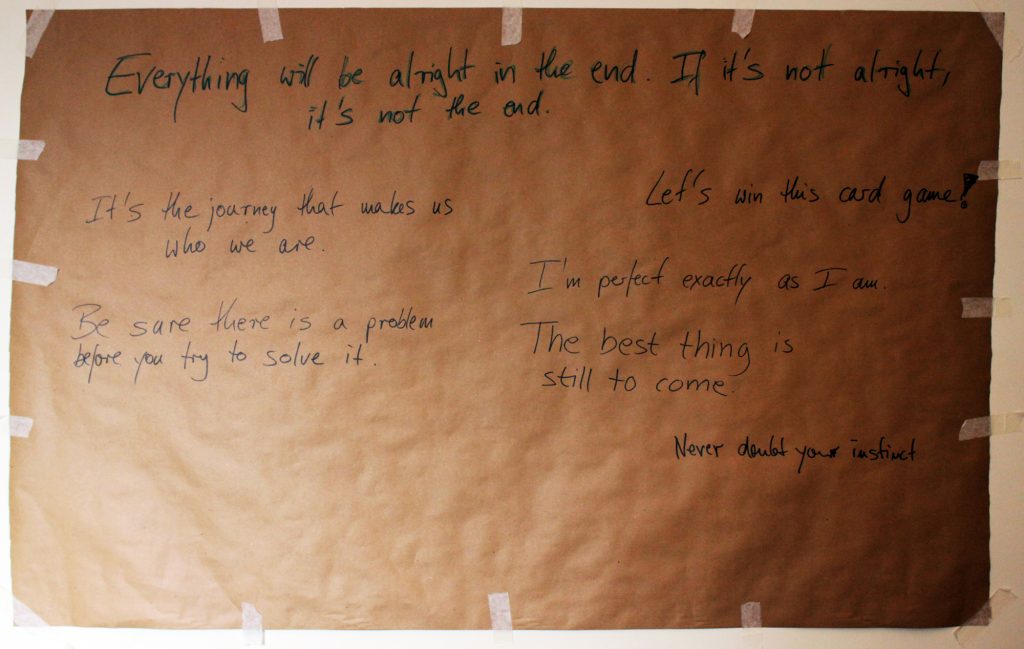 It is still hanging in the bedroom. I haven't been able to take it off yet.
That one blog post
I found this blog post about a week before my surgery and it was exactly what I needed to read and nothing more (I stopped all my googling after this). It calmed me down tremendously and gave me a sense that it was all going to be ok somehow (thanks to the humorous approach). Looking back, most of these points are spot on. I especially kept thinking about #20.
This post also inspired me to write about my experience.
Talking to someone who just went through the same thing
It's invaluable having the right people by your side in these kind of situations, yet you still feel alone from time to time because they don't really understand. I asked my surgeon if I could get in contact with someone that was of similar age with a similar brain tumour to talk to. I wanted to ask that person questions like "How does your head feel now?" "What did you do with your hair?" "Can you jump around and carry stuff?" It is a delicate situation because you don't want to disturb someone else's recovery.
One afternoon, I received a call from someone who had her surgery two and a half months prior. She was gentle, calming and supportive. I appreciate her reaching out to me.
Informing family and friends
When something like a brain tumour shows up, you don't know how people will react when you tell them. I struggled a lot with the idea of making it known to others outside of my little bubble of three people. I was straightforward in my approach. I typed out an English and German version, made a list of people to inform and sent emails, as this gave me a bit of distance before having to explain and answer questions. I felt more vulnerable but also relieved and supported.
Going to the beach
As it happened, we (husband and I) had planned a mini beach vacation in the south of France (a.k.a. visiting parents). Nothing quite compares to the sound of waves, sun and warm sand.