A couple of weeks ago, I wrote about our weekly veg and fruit boxes and how we survive on that. One of the staple breakfast options I make almost on a weekly basis is a chocolate granola.
It is quick, easy and dangerously delicious!
Ingredients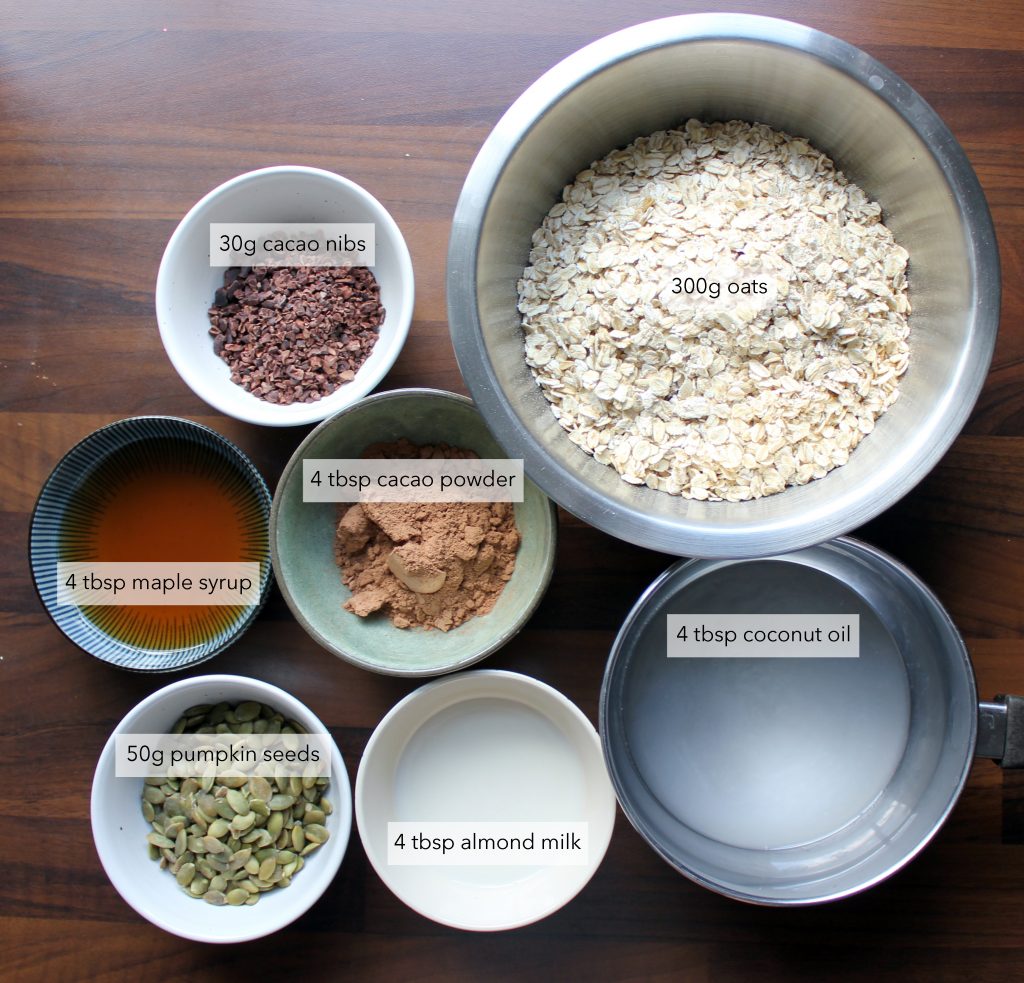 To fill a whole tray and get about 6 portions, you'll need:
4 tbsp coconut oil
4 tbsp unsweetened almond milk
4 tbsp cacao powder
4 tbsp maple syrup
300g oats
50-100g other seeds (I chose pumpkin seeds)
30g cacao nibs
I think once you have the quantities down and know how it works, it is easy to experiment with other ingredients.
Making the granola
Before you begin, prepare a tray with baking paper and turn on the oven to 170 degrees Celsius.
Step 1 – Mix dry ingredients
Add all the dry ingredients in a big bowl and mix them.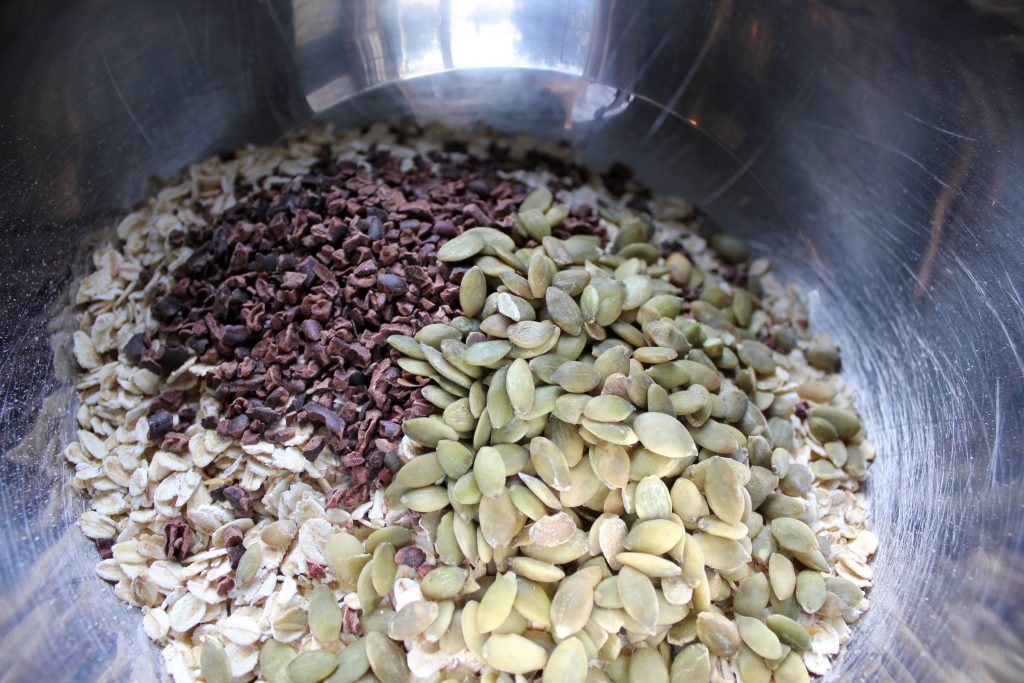 Step 2 – Preparing the liquid mix
Melt the coconut oil over a low heat. If you happen to live in a warm climate, your oil might be liquid already, but still heat it up a little to get the clear colour and get the binding quality. Take from the heat and stir in the almond milk, cacao powder and maple syrup until the mix is smooth.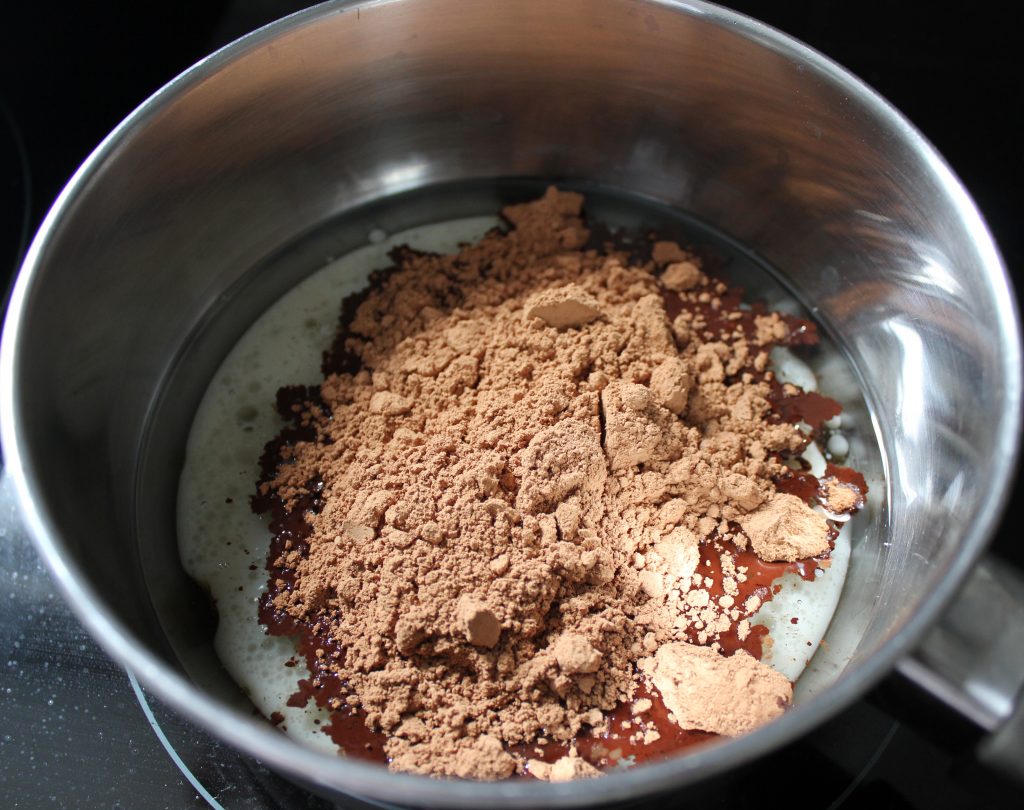 Step 3 – Mixing all ingredients
Add the liquid to the dry ingredients and mix them all well, so it becomes a chocolatey colour and everything is coated well in the liquid.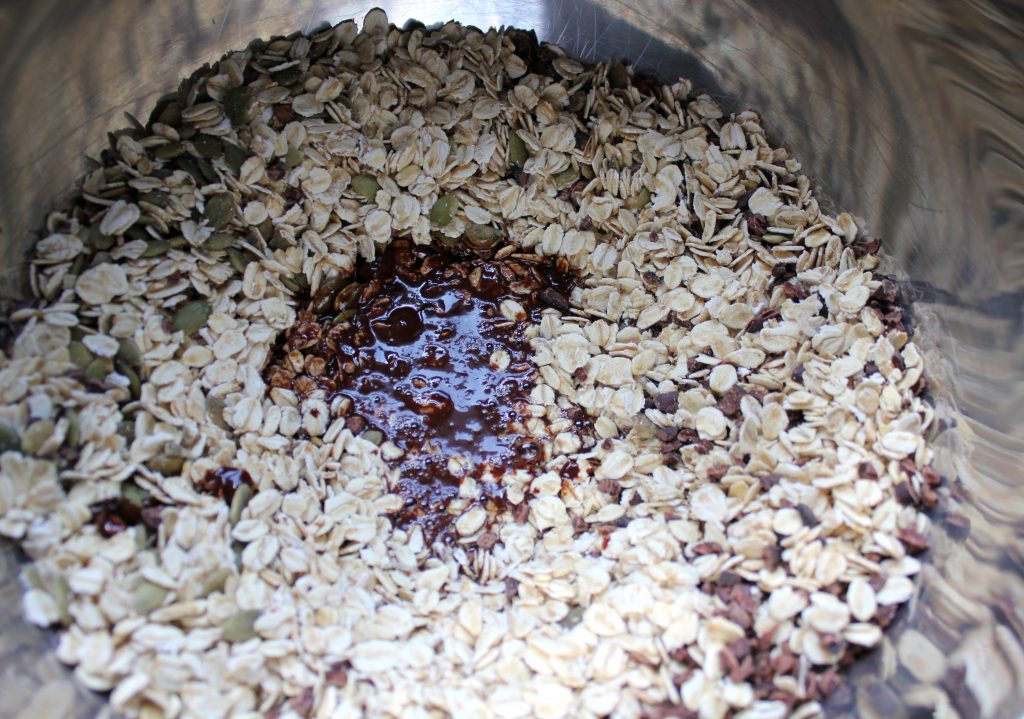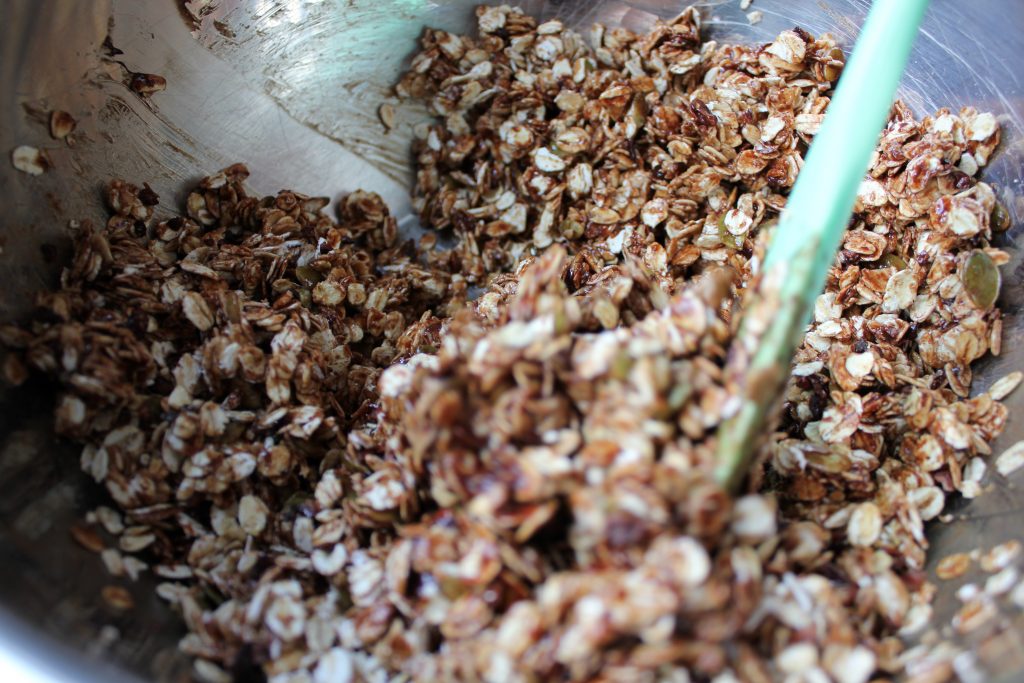 Step 4 – Putting it on a tray
Empty the bowl onto the baking tray and pat the mix down evenly and firmly with a spatula or wooden spoon.
Put the tray in the middle of the oven and leave it at 170 degrees C for 30 minutes.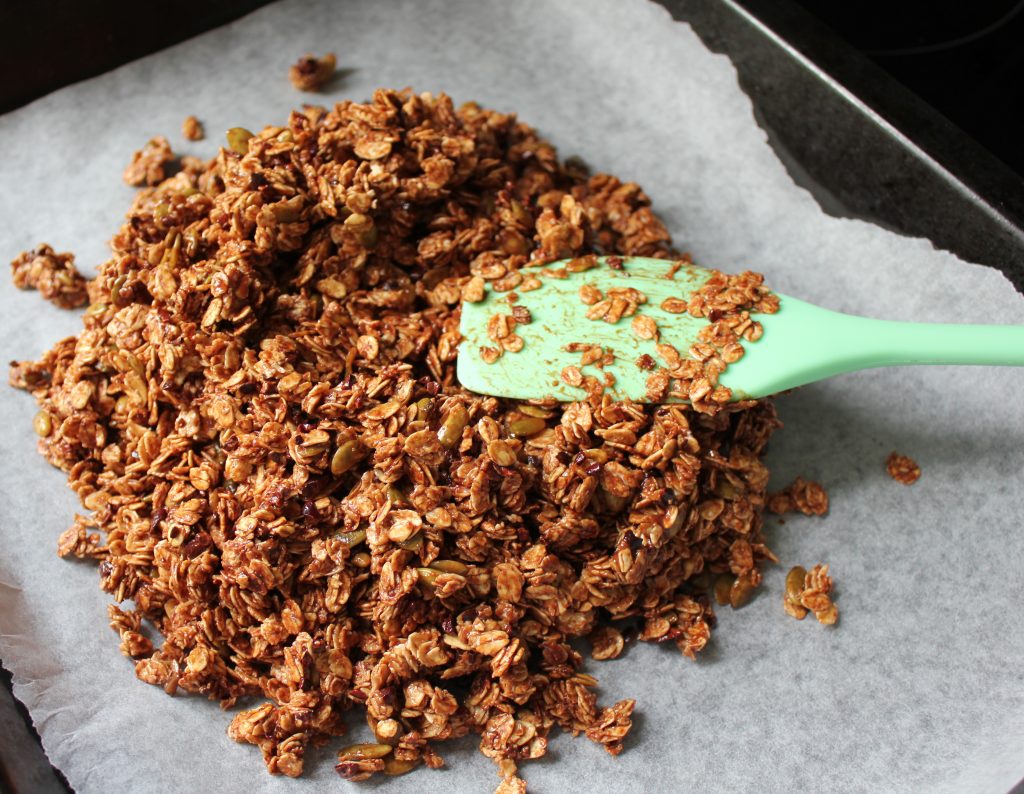 Step 5 – Let it cool
I know it is very tempting to want to dig in already, but be patient and let it cool. That's what will give it the clusters and extra crunch.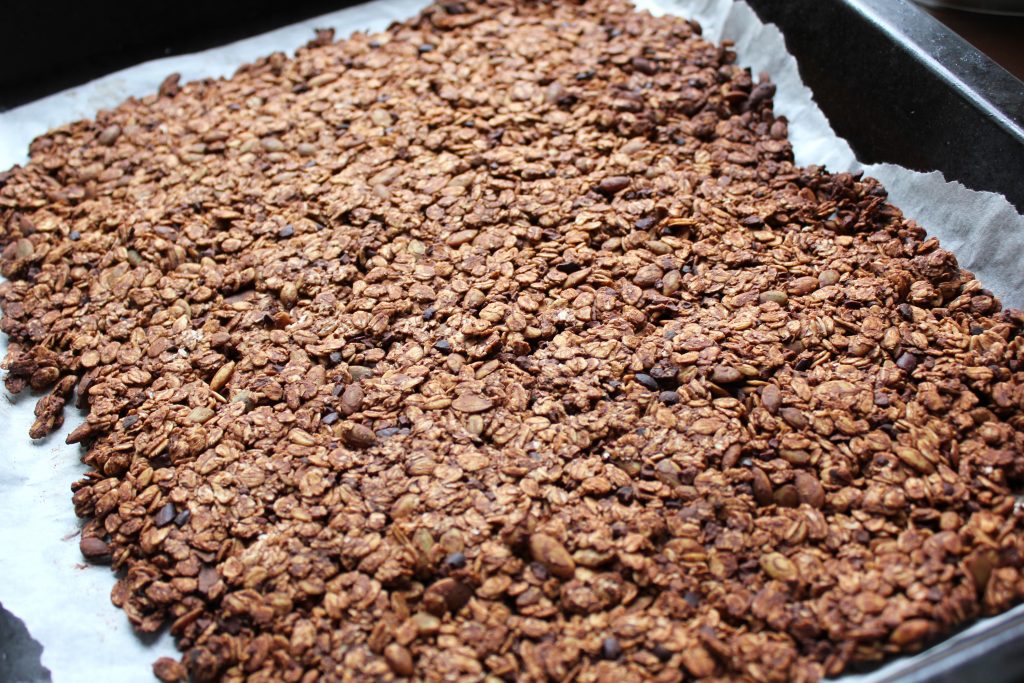 Once the granola has cooled, break it up and fill a container of your choosing.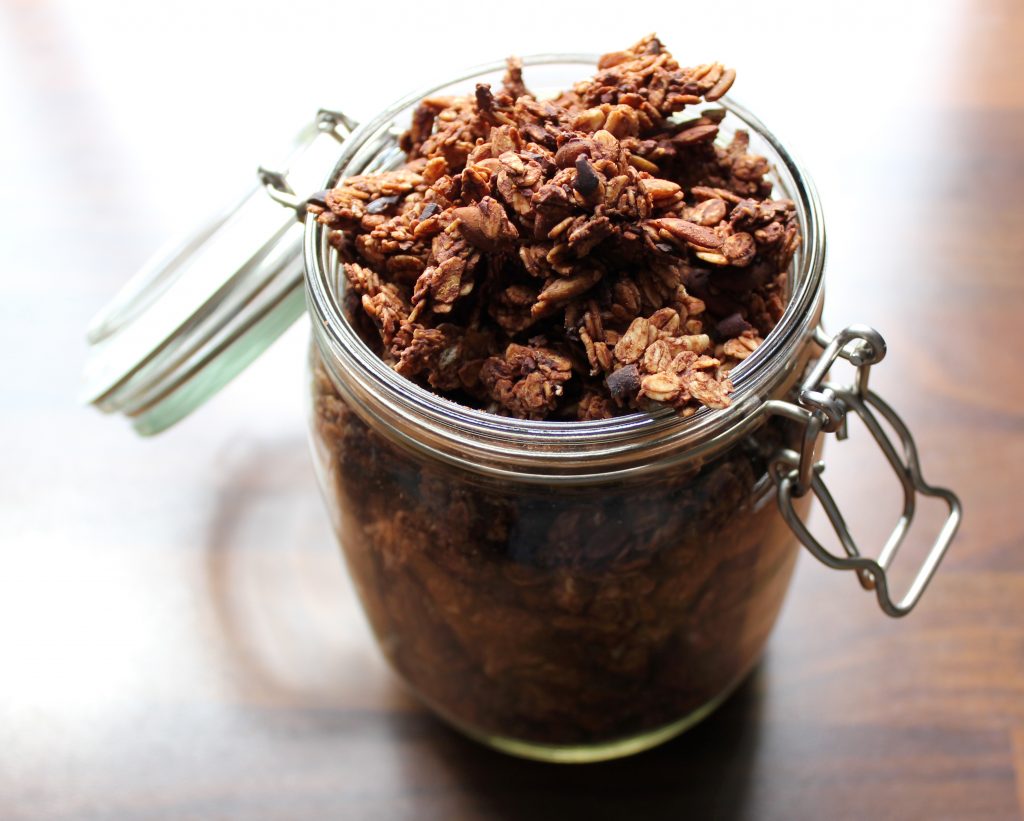 It goes perfect with milk of your choice, yoghurt or banana ice creams.